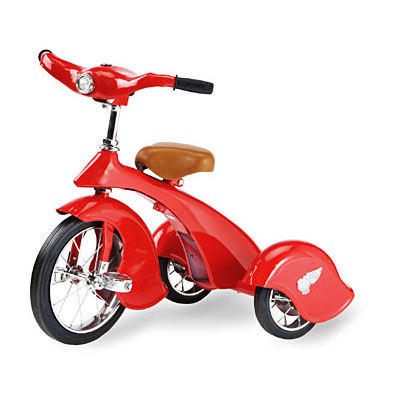 Classic Red 1934 Van Doren Retro Tricycle
Made in the USA
The coolest tricycle that was ever designed. This timeless sporty red tricycle is constructed of handcrafted steel and modeled after the classic 1934 Van Doren design displayed in museums. Timeless treasure featuring chrome trim, durable steel spokes, solid rubber wheels, a leather saddle seat, working headlight, and adjustable handlebars. Adult supervision required.
Check our modern rides for modern kids! Our hand-picked collection of beautiful, safe and finely crafted ride-on toys includes fifties styled pedal cars, classic ride on toys, retro scooters, classic design style bicycles, mid century modern trikes feature classic designs that transcend time and fads. Cherished are our children and the sweet memories of their ephemeral childhood. These classic ride-on toys were designed and crafted to last as long as the sweet memories.
Available from:
http://www.nova68.com