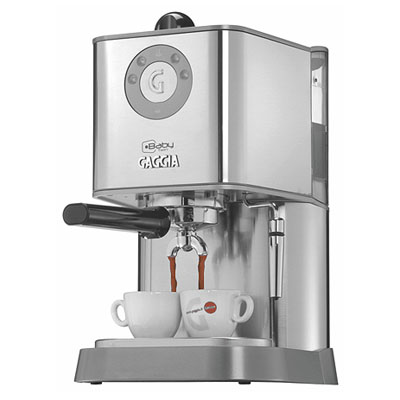 Gaggia Baby Twin Steel Espresso Machine
We love espresso machine, especially when the combine good looks with a great cup of espresso! The Gaggia Baby Twin stands to revolutionize home espresso brewing as the only semi-automatic machine in its class with a dual heating system, allowing you to switch right from brewing to steaming without missing a beat. The Gaggia Baby Twin's three-way solenoid valve, commercial brew group, pre-infusion cycle, and powerful 15 bar pump add to the allure of this innovative design, ensuring rich crema is just a few moments away. All of these heavy-duty internal components are controlled by a modern touch-ring with green backlit buttons. This touch-ring manages brewing, programming, hot water dispensing, and it also has indicator lights for the steam supply and brew boiler temperature.
The Gaggia Baby Twin is easy to maintain and is completely housed in brushed stainless steel. Even the Turbo Frother steam wand attachment is made of durable stainless steel, letting you make creamy cappuccinos and lattes in just a few moments. The steam wand is also mounted on a ball joint, providing a full range of movement. Located on the back of the machine is the 60oz removable water reservoir made of clear plastic, allowing you to monitor your water levels with a quick glance. Plus, it can be easily removed for cleaning.
The Gaggia Baby Twin is available from:
http://www.nova68.com