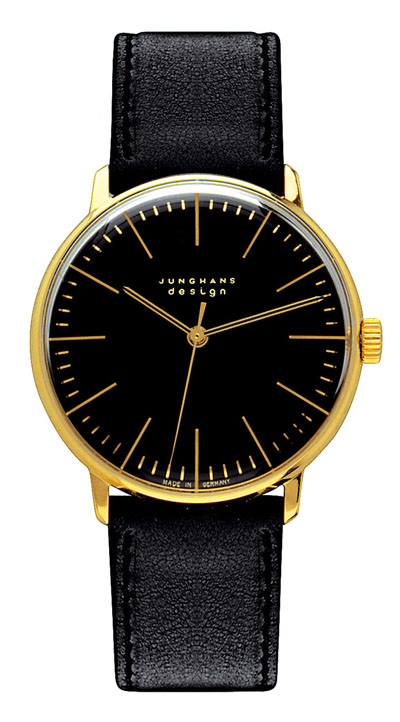 Junghans: Max Bill: Watch Model 5500 Gold
A timeless classic design from 1962! This beautiful watch was designed by Max Bill in the 1962 and has become an Icon of Modern Design. This is an authentic edition, made by the original manufacturer Junghans. Gold plated, black dial with lines, black band.
About Max Bill: Swiss-born German artist, Max Bill, was a product of the Bauhaus generation, pupil of Walter Gropius and kindred spirit of Le Corbusier and Mies Van der Rohe was. He was a virtuoso designer and creative artist, as his diverse activities as a painter, architect, sculptor, teacher, and designer amply demonstrate. His work is characterized by a clarity of design and precise proportions which are unrivalled to this day. The work of Max Bill was a continuous balancing act between free art and applied art, between severe, reduced forms and flowing natural ones, between philosophical thinking and practical application. Examining the subject of "time" was a fascinating challenge for Max Bill, and one that occupied him for decades. A remarkable example of his work is a wall clock he designed for Junghans in 1956/57.
Available online from:
http://www.nova68.com